Or... this post could also be called "The Things You Can Do with Duct Tape" ...
Last week, I wanted to work on teamwork, communication, and support in my small groups. I found that this activity was one that I could easily do with all the majority of my groups, 3rd through 6th.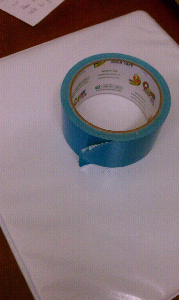 Duct Tape (offered everywhere; in pink, blue, and even zebra!)
30 minutes (to include debrief process)
Directions:
Have all the participants line up from shortest to tallest, shoulder to shoulder, facing the same
direction. Then, using the duct tape, make a rectangle, like the own shown, on the floor around
them so that they have very little room in front or behind their feet.
When in place, the participants must then reverse the line from the tallest to the shortest without
stepping outside the lines.
As you are creating their "life raft", ask them to imagine that they are surrounded by alligators
and lava. If they step out of their raft, even if by mistake, all participants must return to their
original spots and try again.
As participants get better, add challenges and play again. Including:
-take away verbal communication
-take away their eye site, by blindfolding them
-rearrange the start order by birth date, shoe size, lenght of hair, etc.
You can also use these challenges as a way to increase the length of the actual game.
Although I typically will allow the group to show me the way in which to go for discussion...
here are some questions to get you started.
How did we do it? What made us successful/unsuccessful?
Was everyone with an idea listened too?
If you were blindfolded or muted, did you feel taken care of and listened too?
What was the hardest part of this activity? The easiest?
If you would like to focus more on support, here are some questions you could ask:
What are some "alligators" in your life, challenges that that are sometimes tough to get through?
What/who helps you deal with these alligators?
Are you ever all alone on your life raft?
Who can you trust? Who can you rely on?